For the first time in many, many years, members from each appended body of The Hillsboro Masonic Lodge gathered together in a unified event.  A big thank you to the Rainbow Girls for providing dinner – it was a wonderful meal!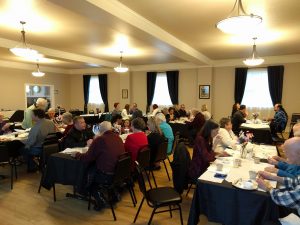 Additionally, we had several members from Holbrook #30 come show their support, notably:
Jim Dorman Sr: Past Master – Holbrook #30 and 50 year member
Right Worshipful Brother Steve Vanderzanden: Past Master -Holbrook #30
Dale Wiley: Current Worshipful Master – Holbrook #30
Malcom McInnis: 50 year member
Mari Chambers: Worthy Matron of The Eastern Star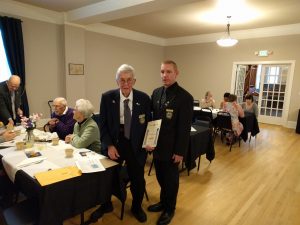 After dinner, the Worshipful Master of Tuality #6, Jason Surrett,  presented Harold Smallwood his 60 year membership acknowledgment!
The evening wrapped up around 7PM.  Many members and guests stuck around to help clean up, thank you to those who did.
WM Surrett has expressed his interest in continuing to do more of these kinds of events throughout the year; including a larger summer event.  Please be on the lookout for these events.  They will be posted on this site, our Facebook Group Page, and on our Google Calendar.
A final thank you to everyone who attended, it's your attendance that makes these events successful.
Brian