Amenities
Tables and chairs to accommodate approximately 120 people
Hardwood floors
Dimmable LED lighting
Two restrooms (labelled women / men)
Full kitchen with commercial stove, dishwasher, and coffee maker
Oversize door with ramp for easy loading
Dimensions & Floor Plan
Ballroom – 2,547 square feet = 39.5 x 64.5 feet
Maximum capacity – About 120 seated, 350 total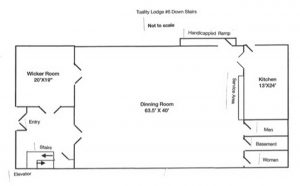 Photos
Additional Services
These services are available for an additional charge.
Mood/stage lighting
Sound/PA system
Live music
Event coordination
Catering
House Rules
Cleanup
Renters are responsible for performing the following cleanup tasks at the close of each event:
Removal of all items brought on the premises
Cleaning & wiping down of all tables and counter tops
Sweeping the floors
Washing and re-stacking any kitchen items used during the event
Placing all trash into the proper containers
Festive Items
No rice, birdseed, or confetti may be used or dispersed inside or outside the building. Large Mylar® confetti is permitted, provided it is entirely swept up at the end of the event. Bubbles are permitted outside only.
Candles
Only dripless or LED candles are permitted. All non-LED candles must be contained. No open flames are permitted anywhere on the premises.
Decorations
You may add temporary decorations under the following conditions:
Masking or Command

®

tape only
No nails, tacks, or other fasteners may be used
All decorations and attaching materials must be completely removed at the end of the event
Event Monitoring
A representative from Tuality Lodge will be present at all events. This person will not participate in your event, but they will be on-site to answer questions or deal with any technical issues that may arise.
If for some reason our representative determines that hazardous, inappropriate, or illegal conduct is occurring they may take corrective action which could result in immediate cancellation of the event, in which case all deposits and rental fees are forfeited.
About the Neighborhood
Information coming soon!
Frequently Asked Questions